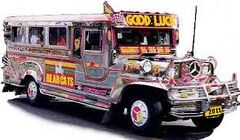 Jeepneys (also known as PUJ) are the most popular means of public transportation in the Philippines. They are known for their crowded seating and kitsch decoration which have become an ubiquitous symbol of Philippine cultural tradition.
History
After World War II, Jeeps (used by the American troops) were sold or given to the Filipinos. An American soldier named Harry Stonehill was involved in the disposal of the military surplus including jeeps. All of the jeeps were redesigned, extending the length and passenger capacity, added metal roofs and decorated in vibrant colors. The original jeepneys were refurbished military jeeps by Willys and Ford Modern jeepneys are now produced with surplus engines and parts coming from Japan.
The jeepney rapidly emerge to the public as an inexpensive public transportation. Recognizing the widespread, the Philippine government regulate their use. Drivers must have a specialized driver's licenses. Routes are regulated and prices are fixed fairs.
In recent years, passenger jeepneys face increasing restrictions and regulations for pollution control, as they consume lots of fuel.
Fleet Modernization
In 2016, the Department of Transportation and Communication imposed an age limit on jeepneys of 15 years of age, with older jeepneys starting to be phased out. The jeepney drivers rally into the streets to stop the modernization program.
As of the COVID-19 Pandemic, jeepneys installed plastic barriers and limits is passengers.
Customs
There are many customs to ride on a jeepney and has it's good and bad:
Good
Bad
Popular Culture
A segment in The Amazing Race 5 uses jeepneys in one of the task involved in Leg 11 of the reality show.
A song Jeepney was composed by the rock band Sponge Cola.
Most of the Shows are feature Manila made Jeepney.
Community content is available under
CC-BY-SA
unless otherwise noted.