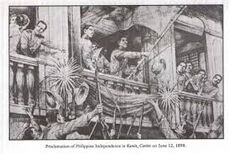 Independence Day
(Filipino:
Araw ng Kasarinlan
or
Araw ng Kalayaan
) is a national holiday in the
Philippines
to commemorate the 1898
Declaration of Philippine Independence
held at the ancestral home of
Gen. Emilio F. Aguinaldo
, now the
Aguinaldo Shrine
. It is celebrated every June 12.
History
The Act of the Proclamation of the Independence of the Philippine People, originally titled in Spanish as the Acta dela Proclamacion de Independencia del Pueblo Filipino was issued on the Aguinaldo Shrine on June 12, 1898, signed by Aguinaldo, 97 Filipino representatives appointed by Aguinaldo, and a retired American artillery officer. The flag was unfurled in a window witnessed by a large crowd as the Band of San Francisco Malabon played the Marcha Nacional Filipina, later to become the tune of Lupang Hinirang. That event was mostly symbolic, as it was not ratified until August 1, 1898 by representatives of 16 provinces under revolutionary rule, and by the entire Malolos Congress on September 29, 1898.
This declaration was not recognized by any other sovereign government, including both the United States of America and Spain who excluded the newly-independent Philippines from the Treaty of Paris, and in that treaty Spain officially sold the Philippines to America. This was considered a violation of their independence and as such, the new government declared war on the United States, starting the bloody Philippine-American War.
After 28 years of American rule, the Tydings-McDuffie Act was enacted by the American Congress, guaranteeing self-independence to the Philippines after a 10-year transition period, known as the Philippine Commonwealth. The two Commonwealth presidents, Manuel L. Quezon and Sergio Osmena, are recongnized by the Philippine government today as part of the Presidential line of succession despite the fact they were ruling a country still not independent. The Commonwealth government was forced into exile from 1942 to 1945 when the Philippines was under Japanese occupation during World War 2.
Following the terms of the Tydings-McDuffie Act, country gained independence on July 4,1946, only a year after its liberation from Japan and the first post-war country to do so. Coincidentally, the date is the same as American Independence Day, or Fourth of July. The new, independent Philippine government recognized that date as their Independence Day and not Aguinaldo's declaration in 1898.
On May 12, 1962, President Diosdado Macapagal issued Presidential Proclamation No. 28, declaring June 12 a public holiday. On August 4, 1964, Republic Act No. 4166 moved Independence Day to June 12 and made July 4 Republic Day.